Department Heads of Kufa University Visited Faculty of Engineering, FUM ( Archive )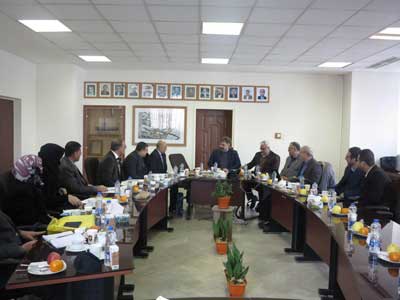 Heads of Engineering Department of Kufa University, Iraq, visited Faculty of Engineering at FUM on February 4-5, 2017.FUM Public Relations Office reports that the Kufa University delegation had a meeting with the Head and the Academic Deputies at the Engineering Department on the first day and participated at a joint meeting with the Head for the International Academic Relations Department at the Councils Hall of the faculty.
In this meeting, Dr. Vahedian presented a detailed introduction of FUM. The Head for the International Academic Relations Department stated that FUM currently hosts 1,500 Internationial Students from 21 countries in the world and that he hopes for establishing a center for teacher Persian language at Kufa University. Prof. Rajabi Mashhadi gave a briefing on the number of academic staff and the students in different fields as well the facilities at the Faculty of Engineering. It should be mentioned that this delegation visited labs, workshops and the facilities of the faculty.
News File