The Ambassador of Australia to Iran: Ferdowsi University of Mashhad is a Good Environment for Education ( Archive )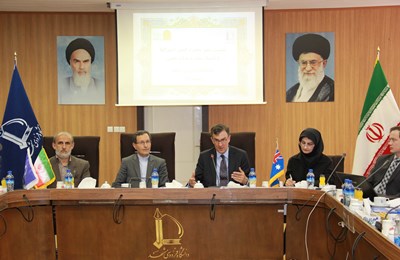 During his stay in Mashhad, Mr. Ian Biggs, the Ambassador of Australia to the Islamic Republic of Iran, paid a visit to Ferdowsi University of Mashhad and participated in a meeting with the board of directors of FUM and a number of faculty members on 10th May 2017.
At the beginning of this meeting, Dr. Mohammad Kafi, the President of Ferdowsi University of Mashhad, presented a brief introduction of FUM and its achievements in scientific diplomacy, as well as pointing to 1500 foreign students who are currently studying at FUM and several memorandums of understanding which have been signed with many countries. Dr. Kafi also mentioned the Nations' Culture Festival which was recently held at Ferdowsi University of Mashhad and added that "Establishing international academic relations is the most sustainable path towards peaceful international relations".
Dr. Mohammad Kafi continued by outlining the main competitive advantages of Ferdowsi University of Mashhad in Eastern Iran, including its closeness to the borders of neighboring countries, and the geographical as well as environmental potentials of the region. The president of Ferdowsi University of Mashhad also pointed to 36 faculty members of FUM who have graduated from Australian universities and recalled the well-structured academic collaborations between Ferdowsi University of Mashhad and Australian universities.
In the second part of the meeting, Mr. Ian Biggs expressed his delight for visiting Mashhad and Ferdowsi University. He stated that the academic and educational level of Iranian universities is far better than expected and added that "3000 elite Iranian students have until now studied at Australian universities". The Ambassador of Australia to Iran also mentioned the resumption of academic collaborations between Iran and Australia in the past three years and announced the preparedness of Australia to extend these scientific relations.
Mr. Biggs then expressed two deterrent factors in facilitating and developing better relations between the two countries, including false conceptions about security issues in Iran and economic as well as bank restrictions resulting from the imposed sanctions. He stated that resolving these problems is of utmost importance. Finally, the Ambassador of Australia to Iran described Ferdowsi University of Mashhad as a large and flourishing university with an ideal educational environment.
At the end of this meeting, the faculty members introduced themselves and mentioned a number of issues with regards to the type of academic collaborations and suggested the removal of the existing administrative hardships in order to facilitate future relations between Iranian and Australian universities.
News File