Meeting between the Representatives of 8 Chinese Universities and the Faculty Members and Managers at Ferdowsi University of Mashhad ( Archive )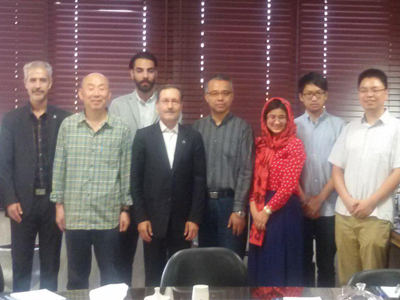 A delegation consisting of the representatives of eight Chinese universities met with Dr. Kafi, the president of Ferdowsi University of Mashhad on Sunday, September 24th. Dr. Abbasi, the Deputy of Research at the Faculty of Letters and Humanities, accompanied the Chinese delegation during this meeting. The two sides discussed the potentials for further collaborations in the near future.
The representatives of Chinese universities who were faculty members at some of the most prestigious universities and science academies in China, expressed their willingness to develop their educational and research collaborations with FUM, as well as to exchange students between the two countries. Also, Chinese representatives presented special gifts to the president of Ferdowsi University of Mashhad.
After this meeting, the Chinese delegation participated in a meeting with a number of academic staff at the Faculty of Letters and Humanities. Dr. Abbasi first provided general explanations with regards to the importance of academic collaborations with reputable Chinese universities and discussed the historical and cultural relations between the two nations. Subsequently, Chinese professors introduced themselves and the universities which they represented. The Chinese guests then held friendly talks with faculty members and students present at the meeting about the potential areas for further collaboration.
On Monday, the Chinese delegation visited different sections of the Faculty of Letters and Humanities as well as the International Center for Teaching Persian Language to non-Persian speakers. Following the latter visit, the members of the Chinese delegation held a meeting with Dr. Ehsan Ghabool, the head of this center. During this meeting, Dr. Ghabool presented a brief introduction of the regional and international reputation of the Center for Teaching Persian to non-Persian speakers at Ferdowsi University and pointed to the increasing number of Chinese students learning Persian at this center. He also mentioned two scholarships granted to a couple of Chinese learners and a Post-doctorate student of History.
Subsequently, the professors and managers of Chinese universities thanked Ferdowsi University officials for providing high-quality facilities for Chinese students. They also expressed their readiness for sending Chinese students in Persian Language and Literature, History, Iranian Studies and Islamology to Iran in order to participate in Persian language courses. Finally, Dr. Ehsan Ghabool dedicated the bust of Ferdowsi and the book collections of modern Persian Language learning to the Chinese guests.


News File