Report of the 1st Standard Persian Language Proficiency Test (SAMFA Test) Held at Ferdowsi University of Mashhad ( Archive )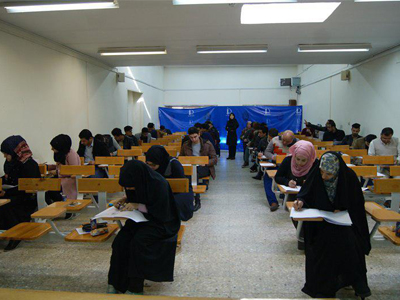 Proficiency test is a well-known type of language testing which aims to evaluate the advancement of language learners in a specific language. For the 1st time, a standard Persian language test has been designed in Iran. All non-Iranian students who want to enroll at Iranian universities should successfully pass this test.
SAMFA test has been designed and implemented through a collaboration between the Center for International Scientific Cooperation (CISC), National Organization of Educational Testing (Sanjesh Organization), Student Affairs Organization and faculty members at Iranian universities and scientific centers. Regardless of where or using which resources the test-takers have learnt Persian, this test examines their proficiency and command of the Persian Language.
The 1st Standard Persian Language Proficiency Test (SAMFA test) was held by The Ministry of Science, Research and Technology (MSRT) at the University of Tehran, Imam Khomeini International University, University of Isfahan, Bu-Ali Sina University in Hamedan, and Ferdowsi University of Mashhad on 25th -26th January 2018. This test aims to measure the language proficiency of non-Iranian applicants who want to study or work in Iran or in other Persian-speaking countries (where Persian is used as a language of education or communication). The examination was held in a written and a spoken section.
SAMFA test has two sections, namely general and academic. The applicants responded to the general questions on Thursday, 25 January. As for the academic section, the applicants responded to questions in 4 categories: humanities, fundamental sciences and engineering, medical sciences and social sciences.
The general SAMFA test was held at the International Center for Teaching Persian Language to non-Persian Speakers at Ferdowsi University of Mashhad. Overall, 40 applicants from Iraq, Germany, and Syria participated in this section of the examination.
In the morning session, the applicants responded to written questions assessing their listening, reading and writing skills. Then, in the evening session, the speaking skill of the applicants was assessed. On Friday 26th January, the academic SAMFA test was taken by 32 applicants from among the Persian language learners at Ferdowsi Center in order to assess their proficiency in academic Persian language skills.
The applicants who successfully pass this test would receive an official certificate from the Iranian Ministry of Science, Research and Technology (MSRT).