International Students at Ferdowsi University of Mashhad (1): Persian Language and Literature was my best choice ( Archive )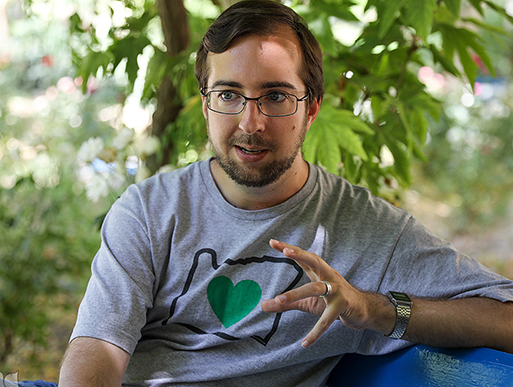 Over 22 thousand foreign students are currently studying in Iran. Home to about 1500 foreign students from 20 countries, Ferdowsi University of Mashhad has the highest number of international students among Iranian universities.
Benjamin Kwiecien
Benjamin Kwiecien is a 31-year old American Muslim living in Iran's northeastern holy city of Mashhad. Benjamin holds an associate degree in computer engineering from the US, but due to his excessive interest in Persian, he quit his major. Benjamin turned to Islam 10 years ago and is currently studying Persian Language and Literature at Ferdowsi University of Mashhad. He is the first American citizen studying in Mashhad since the victory of Iran's 1979 Islamic Revolution.
Talking about the reason for choosing Persian Language and Literature as his university major, Benjamin says: "As a child, I always loved foreign languages and used to read a bit about every language that was spoken in my surrounding environment. However, except English which is my mother tongue, I never mastered a second language. When I first entered university in the US, several things happened. First, I became interested in religious sciences and started reading major theology resources. Then, I converted to Islam. Back then, I started learning Arabic and studied this language for two semesters at a university in California. After converting to Islam, I met some Iranian friends and became interested in their lifestyle as well as their language.
Persian Language and Literature was my best choice
Expressing his interest in Urdu at that time, Benjamin continues: The first time I heard someone speaking in Persian, I said to myself: "What kind of a language is this!" I became curious and asked others about Persian language. Gradually, I found that Persian and Urdu share many linguistic features and Urdu has in fact borrowed many aspects from Persian, especially in terms of literary language. Recognizing the cultural importance of Persian, its poetry, and history, I fell in love with this language. This is why I think Persian Language and Literature was the best choice for someone who had fallen in love with Persian. He added that "I studied Persian in the United States for 3 years, but was not much welcomed in the academic environment of the US, simply because I was a Muslim and the system was non-Islamic. Also, Persian was, of course, not the major language there, so I didn't find the chance to talk to the native speakers of Persian.
During his time learning Persian in the US, Benjamin met her future wife who is from Tajikistan. After finishing his Persian language courses, he went to Tajikistan and the proposal and wedding ceremonies were held there.
Coming to Iran was always my strongest desire
"I have travelled to many countries including Uzbekistan, Samarqand, and Bokhara, but coming to Iran was always my great ambition," says Benjamin. He added: I thought it may be impossible for me to come to Iran as an American citizen. However, my sister-in-law, who studied at Ferdowsi University of Mashhad, followed up on my inquiry and after talking with the officials at the international students' office of FUM, we found that Ferdowsi University of Mashhad would accept me as a foreign student.
Talking about living costs in Iran, Benjamin says: The costs are not very high, but we do still have to save money. Before coming to Iran, my wife and I worked in Tajikistan and saved some money, which we brought with us to Iran.
Study costs in the United States are mind-blowing
"My wife and I live in the dormitory which specifically houses married students and costs $1000 for each semester. In my opinion, studying costs at Ferdowsi University is quite low. On the contrary, study costs in the United States have become mind-blowing. Benjamin continues, "The environment and educational facilities at FUM are very much the same as US universities. Each faculty has its own facilities, including library, study area, Wi-Fi, etc.
"I was used to eating Iranian food before coming to Iran", Benjamin says. "I was quite involved with Iranians and regularly ate their traditional food". He went on, "There was an Islamic Center in California in which Muslims gathered for holding Komeil prayer and congregational prayers. On Thursday nights, they served Persian dinners. "The foods served for students at Ferdowsi University of Mashhad are acceptable", says Benjamin". "Ghormeh sabzi is my favorite Iranian dish".
Iranians are genial and easy to communicate with
Speaking about the attitude of Iranians towards foreign students, Benjamin said: Iranians are indeed very genial and it's always easy to establish friendly relationships with students and professors. They always support and encourage me and I do have close relationships with some of my classmates.
Benjamin also talked about his free time activities: I'm an indoor type of guy. I spend most of my free time at home resting and watching movies. I sometimes go outdoors alongside my wife. However, if time allows, I would like to travel to other cities in Iran. Until now, I have only traveled to Tehran, Shiraz, and Neishabur.
Persian language, the true meaning of love
Benjamin says, "For me, Persian is the true meaning of love. Falling in love with Persian, I decided to marry a Persian-speaking girl. "I also like my children to be native speakers of Persian", Benjamin added. "At first, my Iranian friends were the main reason of my love for Iran and the Persian language, but after getting more familiar with the Iranian culture and literature, I was largely influenced by Abbas Kiarostami's movies. As for Iranian poets, I was more fund of Sohrab Sepehri, Gheysar Aminpour, and Fazel Nazari.
Foreign students are lucky to study at Ferdowsi University of Mashhad
The only American citizen studying at
Ferdowsi
University of Mashhad also talked about his expectations from university officials. "FUM is a really good university to study at. It has almost all that I expect from a high-level university, except for the problems which I faced for entering the dormitory which was quickly solved by university officials. The International Students' Office supports all the international students at FUM. I think current and future international students are very lucky to have been given the chance to study at
Ferdowsi
University of Mashhad.