International Students at Ferdowsi University of Mashhad (3): My first mental image of Iran was proven wrong ( Archive )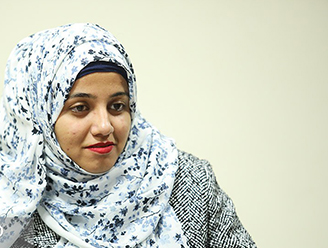 Over 22 thousand foreign students are currently studying in Iran. Home to about 1500 foreign students from 20 countries, Ferdowsi University of Mashhad has the highest number of international students among Iranian universities.
Mehek Fatema Asaria
Mehek Fatema Asaria is a 19 year old Indian student who has been in Iran for about a year and is studying Architecture at Ferdowsi University of Mashhad. She says: At the beginning of my stay in Iran, I studied at Mashhad's seminary for one year and learned the Persian language. However, I was very interested in architecture, since it is a highly functional subject of study. After becoming more familiar with the rich architectural culture of Iran, I decided to continue my studies in architecture at Ferdowsi University of Mashhad.
My first mental image of Iran was proven wrong
Answering to a question on "why did you chose Iran as your academic destination?" Mehek Fatema said, "My father works in Congo, a country located in Central Africa, my mother is a housewife and I have one older brother and one older sister. When I lived in India, I witnessed massive media blitz of certain countries against Iran. Therefore, I had lots of negative pictures about Iran. These negative imaginations encouraged me to gain more information on this country and its culture. Then, surprisingly, I decided to study in Iran and see for myself whether this spate of negative advertisements are true or not. In fact, after a year living in Iran, my first mental image of this country has proven to be wrong.
My Iranian classmates are kind to me
Mehek was asked about the difficulty of studying alongside Iranian students in a language which is not her mother tongue. She responded: Overall, architecture is a difficult university major, regardless of where or through which language it is studied. However, here at Ferdowsi University of Mashhad, I don't have any major problems with my teachers, because they put difficult discussions into simple words and my Iranian classmates are also very kind to me. In cases where I don't understand a concept or subject, they help me overcome my confusion. I'm very happy to study alongside Iranian students and we have established many friendly relationships. Mehek Fatema Asaria added: I am currently staying at Pardis 2 dormitory which is exclusively designed for international students. Each of the rooms are home to no more than 2-3 students.
Pointing to the teacher-student relationship in Indian universities, Mehek said: similar to Iran, university teachers in India do not have notable relations with their students and their only way of communication is through email.
Talking about the participation of Indian students in social and political activities, Mehek said, "Indian university students have recently become more active participants in social and political events and this has brought about some notable changes in the turn of events, but still more participation is needed.
Mehek Fatema Asaria also talked about the activities of Indian youth in their leisure time: "In India, we have almost the same entertainments as in Iran. However, non-Muslims have other entertainments which the Muslims do not participate in".
This Indian student at Ferdowsi University of Mashhad said: I would like to see all the world, but my home country is of course of great value to me. I can't describe India in a single sentence, but I can simply say that "India has anything that anybody wants".