MOU signed between FUM and University of Strasbourg in France ( Archive )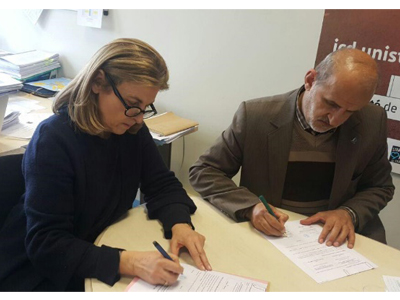 In line with promotion of collaborations and cooperation between FUM and University of Strasbourg, an MOU was signed between the two universities.
During the ceremony for signing the MOU, held at the office of Dr. Jacoberger, Deputy of International Affairs at the University of Strasbourg, with the presence of Prof. Hashemi, Vice-President of Academic Affairs, Dr. Farsian, Head of French Desk of FUM, and Dr. Nassiri, Head of the Department of Iranology and Persian Language and Literature, Dr. Jacoberger expressed her satisfaction with the prepared conditions for the signing of this MOU and hoped for the realization of the MOU by taking the operational measures.
Also, Prof. Hashemi, appreciated the efforts of the representatives of both parties in preparing the conditions for the signing of this scientific-academic MOU between the universities. He pointed out some of its significant paragraphs and noted that FUM is very serious in operationalization of this MOU; preparation of the arrangements for holding the Translation and Discovery of Franco-Persian Literary Heritage Conference even before entering this MOU indicates the seriousness of FUM for its commitment to obligations thereof.
As per the contents of the said MOU, parties will take measures in exchanging faculty members and students, holding joint conferences, advising and supervising students' dissertations, doing joint research projects. Also, exchange of scientific and research publications and books related to the teaching of Persian language and Iranian studies, holding short-term courses and workshops, strengthening the knowledge of Persian language and literature students of the University of Strasbourg were among the important aims of the signed MOU.
Considering the existence of the independent department of Iranology research and Persian language and literature as one of its 26 active languages at the Faculty of Foreign Languages of the University of Strasbourg, it seems that strengthening this department will be conducive to promoting the status of Persian language and literature at the said university.
In this line, one Ph.D. student of Persian language and literature of FUM will attend the University of Strasbourg as of August 2018 to help with the shortage of instructors of Persian Language and Iranology courses.