FUM honored Charles-Henri de Fouchécour for the French Translation of Divan of Hafez ( Archive )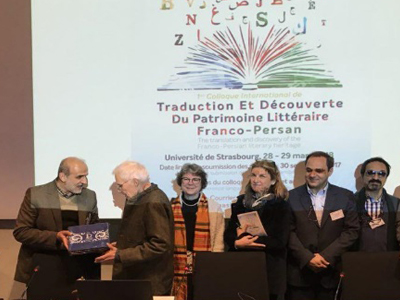 During "Translation and Discovery of Franco-Persian Literary Heritage Conference" in Strasbourg, FUM honored the French translator, Charles-Henri de Fouchécour, receiver of first class Hafez medal in Hafze studies, for his invaluable efforts in translation of Divan of Hafez
As Persian language enthusiasts and scholars would acknowledge, the cultural tie between the two countries have a background of 400 years. Of the French researchers in the field of Persian language and literature, the role of three "Henri"s have been outstanding: Henri Massé with his valuable works on the history of Iranian literature Sa'adi studies, Henry Corbin with his undeniable impact on correction and translation of mystic works of Persian language, and finally, Henri de Fouchécour, who has written 6 books and 70 scientific articles on Persian language and literature, and completely translated the Divan of Hafez. This great deed was completed after 18 years of continuous efforts in 2006.
In the recent years, Professor Henri de Fouchécour, managed to receive plaque of appreciation from Farabi Festival, 16th Literary Award of Mahmoud Afshar, class one Medal of Hafez Studies, and plaque appreciation from University of Shiraz for his endeavors.
Due to the impact of this prominent figure, who is still enthusiastic about doing research in the field of Persian literature at the age 93 and even delivered a lecture at the Translation and Discovery of Franco-Persian Literary Heritage Conference, FUM decided to show its appreciation for his 45 years of great effort during the said conference at the University of Strasbourg in France. During this ceremony, Prof. Hashemi, Vice-President for Academic Affairs of FUM, honored him for his endeavors by presenting some gifts, including the FUM badge and statue of Ferdowsi.