Ferdowsi University of Mashhad and Czech University Signed an MOU ( Archive )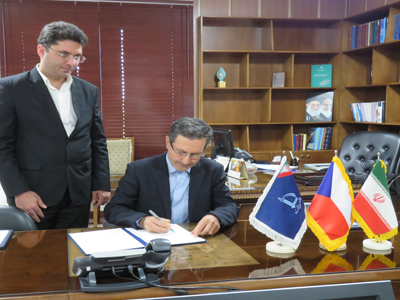 Presidents of FUM and Czech University signed an MOU for scientific collaboration in academic, research, and technology fields on April 10, 2018.
Following signing the MOU, Prof. Mohammad Kafi, President of FUM, mentioned scientific diplomacy as one of the top priorities of FUM and establishment of relationship with European universities such as Czech University is done in the line of promoting scientific diplomacy at FUM. FUM president said that the purpose of entering into MOUs with world universities is for academic staff members and students to benefit from the capacities of the MOUs; he hopes that the parties can operationalize the contents of the MOU.
Dr. Ehsan Ghabool, Head of International Academic Relations Office at FUM commented on the signed MOU and said that the MOU contains various academic, research and scientific parts, of which student exchange, joint research projects and scientific information exchange have operational feasibility.
Dr. Ghabool described Czech University as one the old and recognized universities of Czech Republic with a 110-year history and a global rank between 800-1000. He pointed out that signing this MOU was realized with the help of Dr. Hossein Banejad, scientific staff member at the Faculty of Agriculture; he expressed his appreciation for his cooperation with the International Academic Relations Department of FUM in promotion collaborations with recognized world universities and appointed him as the liaison between the two Universities.