Syrian Independence Day Ceremony at Ferdowsi University of Mashhad ( Archive )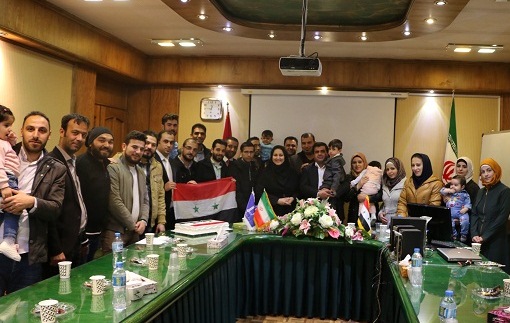 The ceremony began with the recitation of Qur'an, then the national anthem, and a minute of silence honoring the pure souls of the Syrian martyrs.
Syrian Independence Celebration at Ferdowsi University of Mashhad remarks the celebration of Evacuation Day, "Eid al Jalaa" celebrated on the 17th of April of every year, for the evacuation of the last French troops from Syrian soil.
At the ceremony, Dr. Mouzenzadeh, Head of the International Students' office of the University, expressed satisfaction at the Syrian Independence Day, saying: "You Syrian students should put your effort into rebuilding and developing your country with the knowledge you receive from our university."
Head of the international students' office stated: "Hearing their national anthem, Syrian students must feel honor and pride hoping to participate in the process of reconstructing their country with their higher education."
Mr. Abdullah Al-Sheikh Abdullah, the representative of Syrian students at Ferdowsi University of Mashhad, issued a statement on the occasion of the seventy-second anniversary of the Syrian Independence Day saying: "We are proud of the victories of Syria and stand with the Syrian government against the Takfiri terrorist war, and our martyrs souls will always be our guiding lantern."
The students' representative also added: "Syrian students of Ferdowsi University of Mashhad strongly condemn the cowardly attack of the colonial countries (America, England, and France), and hope to return to our country after graduating and gaining knowledge from Ferdowsi University of Mashhad to be leaders in all aspects of development and knowledge."
On the sidelines of the ceremony, a documentary on the courage of the Syrian people against the colonialists was shown while cutting the cake of Syrian independence.