University of Clermont Auvergne, France, and FUM Sign an MoU to Offer a Prestigious Diploma in International Business Taught in English with the Added Advantage of Learning French ( Archive )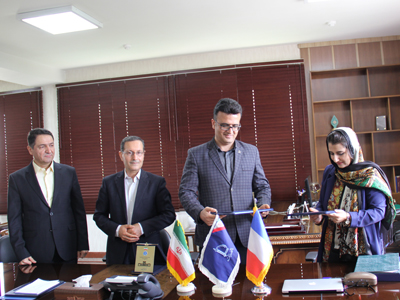 In line with holding joint programs, an MoU was signed between Ferdowsi University of Mashhad and one of the oldest universities of France, University of Clermont Auvergne for an internationally recognized Diploma in International Business which is taught entirely in English and also offers a course on learning French as a language. The Diploma in International Business (with French) is internationally recognized and currently running in countries such as Canada, USA, UK, Italy, Spain, Austria, China, Germany, France amongst others. The Diploma for the students of FUM will be awarded directly by University of Clermont Auvergne.
According to the terms of the MoU, English will be the language of instruction. Thus, after an academic interview of applicants and determining their level of English proficiency, students will start their studies from September, 2018. The duration of the course is approximately 10 months and the venue will be FUM, with 50% of the content being presented by the faculty members of the Faculty of Administrative Sciences and Economics of FUM, and 50% of the content will be virtually delivered by an international faculty on behalf of University of Clermont Auvergne
At the ceremony of signing the action plan, which was held at the office of the President of FUM, the representative of the University of Clermont Auvergne, France, expressed her satisfaction with the provision of conditions necessary for the signing of an MoU between the two universities.