The First International Camp for Documentation of Modern Architectural Heritage in Iran ( Archive )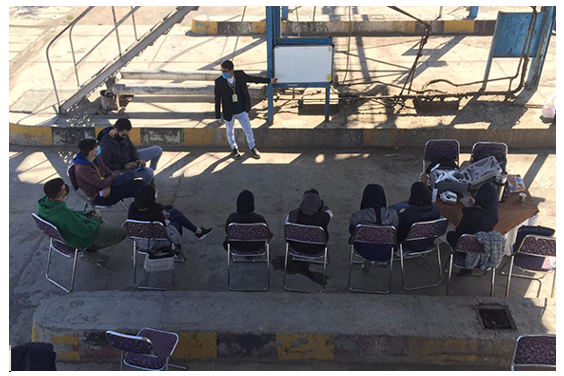 The first documentary architecture camp of modern Iranian architecture on 26 to 29 October 2020 was held in collaboration with the Faculty of Architecture and Urban Planning of Ferdowsi University of Mashhad (FUM) and DOCOMOMO Iran (international committee for documentation and conservation of buildings, sites, and neighborhoods of the modern movement), and with the support of SIPA (International Committee for Documentation of Cultural Heritage) and petroleum museums and documents center of Iran.
At the closing ceremony of the camp, which was organized by Dr. Parsa Pahlavan the faculty member of Architecture and Urban Planning of FUM (Scientific Secretary of the Camp) and Dr. Taheri, Dean of the Faculty of Architecture and Urban Planning, video messages were presented by Professor Fulvio Rinaudo the general secretary of CIPA, director of DOCMOMO Iran, and Iran representative in CIPA.
Professor Fulvio Rinaudo while expressing satisfaction with the Mashhad Camp project as the first example of a modern heritage digitalization camp, invited the present students in the camp to join the International Committee for Cultural Heritage Documentation. Considering the introduced potentials, he expressed hope to hold a World Digitization of Architectural Heritage Camp in 2023 in Iran. Mr. Hadi Naderi (Secretary of DOCMOMO Iran) and Dr. Abbas Malian (as the representative of the Islamic Republic of Iran in CIPA and executive member of CIPA in the period 2019-2024) via an online communication, while congratulating the students of FUM, expressed hope for expanding cooperation and the Memorandum of Understanding on the Digitization of Architectural Heritage.
The camp aimed at technologically conducting measurement sciences into the heritage documentation and recording discipline. The participant students from Iran, Afghanistan, and Iraq in this 30 hrs workshop learned and practiced computerizing photogrammetric survey of modern architectural heritage, historical instruments, and documents and have practiced facade mapping by drone photogrammetry.
News File