The Ceremony for the Beginning of the Academic Year in 2020-2021 was held at Ferdowsi University of Mashhad ( Archive )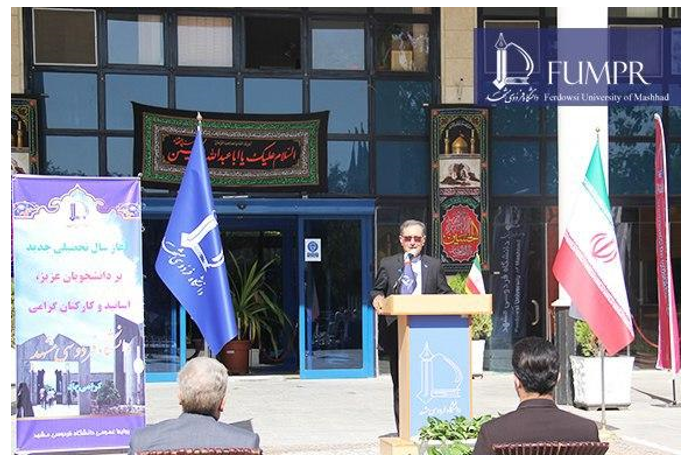 The opening ceremony of the academic year 2020-2021 was held at Ferdowsi University of Mashhad (FUM) with the presence of Prof. Mohammad Kafi, President of FUM, the University Board, a group of deans, administrators and university colleagues on Saturday, September 19, 2020.
In this ceremony, Prof. Kafi, while congratulating the beginning of the new academic year and welcoming the new students, said: "Due to the special conditions that exist in the society today, we should see as few people as possible in public places such as universities, and today's ceremony is a symbol of limitation of these days."
The president of FUM continued: "University is not a higher education center that only educates students and graduates, but these days universities, especially grand universities such as Ferdowsi University of Mashhad, in addition to producing knowledge, play an important role in social responsibility and solve community problems." Today, when the international community, especially our country, is in trouble, Ferdowsi University of Mashhad, which is the largest scientific center in the east of the country, should be more present in the community and try to solve the problems of the community.
At the end of the ceremony, Prof. Kafi wished health and well-being to all the people of the world and Iran, especially the large family of Ferdowsi University of Mashhad.
Continuing the ceremony, Hojjatoleslam Hosseini Motlagh, Head of the Representation of the Supreme Leader of the University, while commemorating the Holy Defense Week and congratulating the new academic year, said: "This year, FUM has been able to hold all the ceremonies with all limitation in a virtual format. Let's continue the mission. He added that the smallest thing that can be done in the not so good situation of the society is to help. He called on the professors and all the academics to transfer peace to society.
Congratulating the beginning of the new academic year, Prof. Reza Pishgadam, Vice President for Academic Affairs of FUM, said: "We had challenges in the last semester, and with the efforts of our colleagues, we tried to prepare good facilities for the upcoming semester." These facilities include strengthening the infrastructure, updating the software, increasing the supervision, and all classes are held in the form of webinars. In the end, he called for the existence of an educational triangle of value, skill, and knowledge in cyberspace.
News File