Discovery of a new plant species by FUM was recorded as Hakim Abulghasem Ferdowsi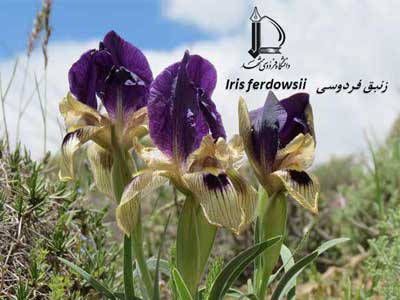 The academic members of the FUM's Botany Department (Herbarium) at the Plant Studies Research Center managed to discover and introduce a new plant species in Khorasan to the world. Public Relations of FUM report that Dr. Farshid Memariani and Mohammadreza Joharchi, academic members of the Botany Department of this research center succeeded in discovering this new species.
It belongs of the genus Iris and belongs to the Iridaceae which has been collected for the first time from the mountains of Hezarmasjed and Allahoakbar, Northern Khorasan Razavi Province and was announced as a new species of botany after specialized botanical studies on the samples of herbarium and the living beings of this plant at the natural habitats. This new species was scientifically named Iris ferdowsii after the famous Iranian Poet, Hakim Abu-Alghasem Ferdowsi. Its sample type or document is stored under No. 45170 at the Herbarium of FUM. It should be mentioned that the habitat of the sample type lies at the hillsides of Hezarmasjed, which overlooks Paj Village, the birth place of Ferdowsi.
Iris ferdowsii grows at a height of 1,400 m to 2,750 m in mountainous steppes with gentle slopes and limestone bed and considering the plant taxonomy it belongs to the wild relatives of ornamental iris. Considering the sporadic population of this plant and the destruction of its habitats by livestock overgrazing, plowing mountain pastures for rainfed agriculture and road operations, this beautiful and valuable species is at the risk of extinction, based on the criteria of the International Union for Conservation of Nature (IUCN). The report of this scientific discovery within the framework of a specialized article was published at the Phytotaxa, a JCR indexed magazine. To access the full article, you may follow this link: http://biotaxa.org/Phytotaxa/article/view/phytotaxa.291.3.3