The role of the Information Center and Central Library of Ferdowsi University of Mashhad in the Expansion of International Communications ( Archive )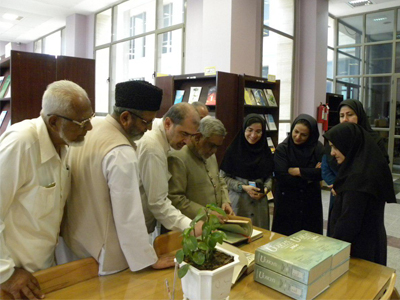 The presence of international students and the recent strategy of Ferdowsi University of Mashhad for expanding its international scientific and cultural communications has had a significant impact on the number and type of visits, especially international visits, to FUM. Due to the importance of the Information Center and Central Library of Ferdowsi University of Mashhad as a supporting body for educational and research affairs, this center has played an outstanding role throughout these visits.
Undoubtedly, one of the evaluation criteria for ranking universities across the world is the available and accessible scientific resources. Therefore, this center is a fixed part of almost all scientific visits to Ferdowsi University of Mashhad and library staff do their best to promote the library both quantitatively and qualitatively, helping Ferdowsi University in reaching its short-term and long-term objectives, one of which is internationalization.
During the period between March and November 2017, a total of 17 international groups visited the central library, consisting of 237 visitors. In addition to international visitors, this center has also hosted other visitors which are roughly categorized into high-school students and university students. Overall, 990 high-school students visited the information center and central library at Ferdowsi University of Mashhad through 23 group visits. Also, 128 university students visited this center during the pre-mentioned time period.