Meeting of President of FUM with the President of INACLCO Research Institute, France ( Archive )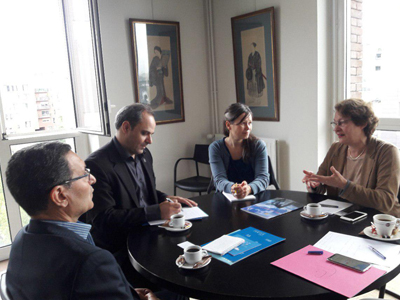 On the sidelines of the summit of presidents of major universities in Iran and France, Prof. Mohammad Kafi, President of FUM met with the President of National Institute for Oriental Languages and Civilizations (INALCO) while visiting this research institute in Paris.
During this visit he was accompanied by Dr. Farsian, who is in charge of the French Desk of the International Scientific and Academic Relations of FUM; Dr. Manuelle Franck, the President of INALCO, while introducing the history and fields of practice of INALCO, mentioned its than 300 years of background, and expressed that Persian language was one the first languages to be taught at the institute; therefore, its development and promotion is of great importance.
Prof. Mohammad Kafi, Presdident of Ferdowsi University of Mashhad, while introducing FUM in terms of history, science and language, mentioned that Ferdowsi University of Mashhad is one of the largest Persian language teaching centers for non-Persian speakers at international level. He added that the only scientific center of excellence on Ferdowsi studies in Iran is located at Ferdowsi University of Mashhad; he continued that we can work with INALCO in the field of complementary Farsi language courses for French speakers.
At the end of the meeting, it was decided to prepare a draft for bilateral cooperation agreement by late September, after which the parties would enter into the agreement. The responsibility for pursuing this memorandum was entrusted to Mrs. Dr. Julie Duvigneau, professor of Persian language at INALCO and Dr. Mohammad Reza Farsian from Ferdowsi University of Mashhad.
The National Institute of Oriental Languages and Civilizations, INALCO, or the School of Eastern Languages, has 9,000 students. 93 languages are taught at this university. This university was founded in 1795 to educate translators and linguists for working at French embassies and consulates.