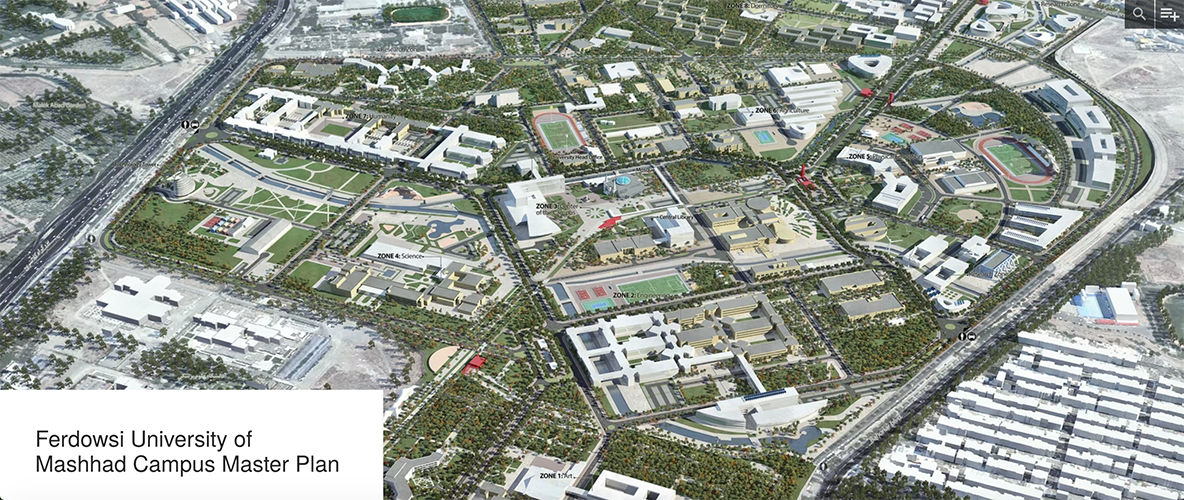 Ferdowsi University Campus Master Plan (FUCMP)
Ferdowsi University Campus Master Plan (FUCMP) has been established in 2011 to set strong thinking about "Creating an environmentally sustainable campus and green development". Studies on master plan programming, design, and implementation can be categorized into 14 chapters: 1. Basic Studies; 2. Educational Programming; 3. Spatial- Physical Cognition; 4. University's Buildings Identification; 5. Principles of University Spaces Design; 6. World Case Study; 7. Spatial Analysis of Campus Land uses; 8. Physical Programming Principles; 9. Campus Design Principles; 10. Transportation and Traffic; 11. Campus Signs; 12. Landscape and Environment; 13. Passive Defense; 14. Building and Construction Details.
In recent years, Islamic countries have considered "Islamic traditions and Contemporary Design" as the principles of university's outlook. Due to the physical needs and value-oriented viewpoints, the physical outlook of Ferdowsi University of Mashhad can be determined as below:
Development and improvement of the university's spatial needs following the sustainable development of Iranian- Islamic architecture patterns.
Environment improvement, resource conservation, and green university achievement have been noted as the main goal of physical programming.
Design strategies can be categorized into the UI GreenMeteric WUR criteria: 1. Setting and Infrastructures; 2. Energy and Climate Changes; 3. Waste; 4. Water; 5. Transportation and 6. Education. The ambition for achieving these criteria led the design team to focus on reducing environmental damages and spreading the use of renewable energies and green technologies.
The main goals of FUM are as follows:
Increasing place attachment and creating a strong sense of place;
Developing a scientific, healthy, and creative environment;
Creating sociable environments and desirable interaction;
Considering architecture, urban and environmental design criteria (to achieve a green campus);
Relationship between internal learning environments and external society;
Promoting the current situation;
Increasing environment legibility;
Education, research, and experience in a responsive environment;
Sustainable campus as an urban-regional sign.
According to mentioned goals, the design strategies in the campus master plan are:
Relationship with the city;
Consideration of Iranian-Islamic architecture patterns following contemporary design principles;
Green architecture design;
Campus walkways development;
Creating linking buildings;
Space optimization;
Environmentally adaptive architecture;
Use of the latest space standards
Considering future universities' architectural principles;
Creating social learning centers in 9 zones of the campus;
Creating a legible spatial network over the campus;
Use of on-site ecological potentials and renovation of the stream as the ecologic axis;
To legible the 12 faculties' borders;
To unify the same land uses and avoid diffused buildings over the campus;
To create recreational and desirable environments for students and other users;
Green light transportation system on the main axis of the campus;
The Legible entrances for campus;
Creating a socio-physical area in heart of the campus;
To increase accessibility to different destinations over the campus;
Maximum use of current buildings and renovating them;
Minimum of destruction and maximum flexibility in future buildings;
Respect for the physical-spatial history of the campus and reviving the memories; and
To achieve 90 sqm public per capita and 27 sqm spatial per capita for each student.